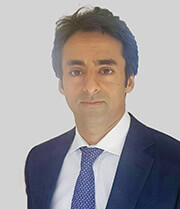 Faisal S. Ashraf
Founder & Managing Partner
Lotus Capital Partners, LLC
126 East 56th Street, 4th Floor
New York, NY 10022
+1.212.922.0255 (office)
fashraf@lotus-cp.com
Faisal Ashraf is the Founder and Chief Executive of Lotus Capital Partners, LLC. From 2013 to 2016, Mr. Ashraf served as Managing Director and the Head of Capital Markets & Large Loan Lending at CCRE, the largest non-bank CMBS lender in the United States at the time. During his tenure at CCRE, he successfully originated & risk managed over $4 billion in mortgage and mezzanine capital.   
Prior to joining CCRE, Mr. Ashraf served as a senior member on the US real estate finance team for Crédit Suisse where he structured and closed over $35 billion in debt and equity related products. Mr. Ashraf's focus at Crédit Suisse was on LBO's, large loans, development debt, and mezzanine financing. He also served as the Deputy Head of the Real Estate Finance in Europe where his group financed over $5 billion of mortgage and mezzanine capital across eight countries.
Mr. Ashraf started his career at Moody's Investors Service where he underwrote over $15 billion in US commercial real estate loans. He holds a B.A. from Hofstra University.